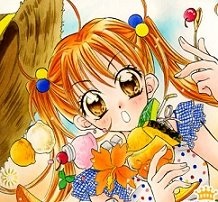 Kazami Najika (風見 七虹香) is an orphan from Hokkaidō who lost both her parents in an accident at a very young age. Najika has been searching for her "Flan Prince", eventually transferring to Seika Academy when she discovers that the spoon is unique to that school. She initially has a crush on Sora, who claims to be her "Flan Prince" not knowing that Daichi had fallen in love with her. In the moments before Sora's death, Sora confesses that he lied about being her prince, and it is later revealed that he did so to try to keep Daichi from remembering their mother's death. In shock about Sora's death she loses her sense of taste and loses her place in Seika Academy, but soon thanks to Daichi she is regained her place in Seika Academy with certain conditions from the director. (Daichi's father.) Najika soon gets her sense of taste back. With Daichi supporting her from the sidelines she startes to fall in love with Daichi. It is later revealed that Daichi is her true "Flan Prince". When Najika discovers this, she fulfilled her promise to Daichi that she made six years ago.
Trivia
Najika's name means rainbow.
Ad blocker interference detected!
Wikia is a free-to-use site that makes money from advertising. We have a modified experience for viewers using ad blockers

Wikia is not accessible if you've made further modifications. Remove the custom ad blocker rule(s) and the page will load as expected.